Teaching in English
Internationalisation of teacher training at home: A blended learning programme on ILIAS
Schlagworte:
E-Learning, ILIAS-course, Blended Learning, Flipped Classroom, Micro-teaching, Internationalisation of teacher training
Abstract
Teaching in English is a newly developed programme preparing trainee teachers for school placements and internships abroad.
The content heavy didactic language course will be offered in a blended learning format on ILIAS to facilitate the provision of substantial course material, thus maximising the efficient use of teaching and learning time in the live sessions. This will be achieved by introducing flipped learning elements in the digital pre- & post- live session phases.
The range of additional features available on ILIAS allows for improved student collaboration and interaction as well as self-assessment and independent learning, which can be more effectively guided in the pre- and post- session phases. This should significantly improve students´  motivation and performance in terms of learning progression as well as overall achievement.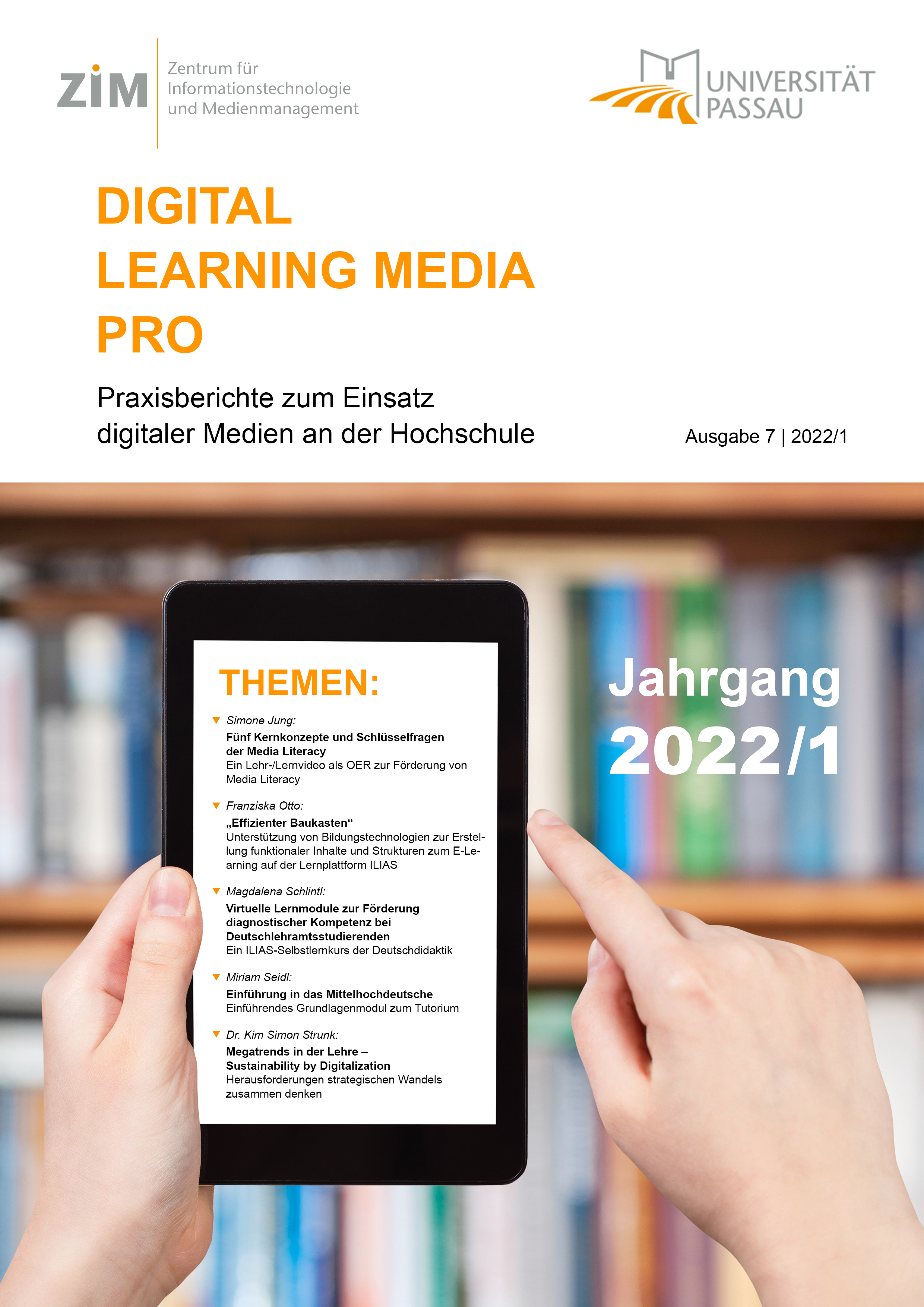 Downloads
Zitationsvorschlag
Blake, S. O. (2022). Teaching in English: Internationalisation of teacher training at home: A blended learning programme on ILIAS. Digital Learning Media Pro - Praxisberichte Zum Einsatz Digitaler Medien an Der Hochschule, (7), 9. https://doi.org/10.15475/DLMP.2022.1.6
Lizenz
Copyright (c) 2022 Sabine Ophelia Blake
Dieses Werk steht unter der
Lizenz Creative Commons Namensnennung 4.0 International
.
Autor/innen, die in dieser Zeitschrift publizieren möchten, stimmen den folgenden Bedingungen zu:
Die Autor/innen behalten das Copyright und erlauben der Zeitschrift die Erstveröffentlichung unter der Lizenz Creative Commons 4.0, die es anderen erlaubt, die Arbeit unter Nennung der Autor/innenschaft und der Erstpublikation in dieser Zeitschrift zu verwenden.